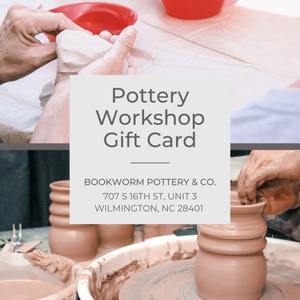 Pottery Workshop Gift Card
Looking to purchase a gift card intended for a particular offering at Bookworm Pottery & Co.? We now offer separate gift card listings for some of our services!
This listing is for the amounts of various pottery workshops! There are several different types of workshops each month, including (but not limited to) two-hour private wheel-throwing lessons, hand-building workshops, and series classes. These services must be booked through our website. If a service isn't listed, they are sold out for the month.
This gift card doesn't have to be used for this specific purpose and can be used for other products on our website.